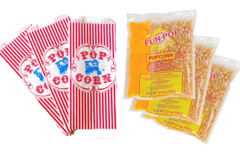 BF - Extra Popcorn Supplies 10 Servings
Extra Popcorn Serves up to 10 people. And includes 10 popcorn bags to serve in. Designs and print may vary for the popcorn bags.
Premade popcorn bags with the kernels, butter, oil and salt ready to use for frsh made theater style popcorn!!