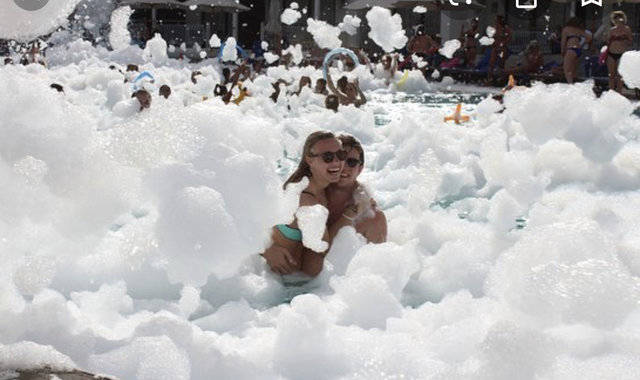 ASJ-Foam Party! 2 hours of fun !
Vegas Quality Foam Party and Foam Pit for your event!! Can be setup poolside, or in grass. Vacaville, Fairfield, Suisun, Benicia, Napa bounce house, water slide, Jumper
PRODUCT DESCRIPTION:
We are here to take your dance parties up a step! Our Foam Pit Party is the newest way to have a super cool and fun time at the party! Don't put up with being all hot, sweaty, and uncomfortable while dancing. Instead, stay cool and refreshed with our foam while you dance and party!
Our Foam Pit Party is super awesome! You won't get cold and sticky after being in our foam pit like you would most places. Instead, our foam cools you down, but keeps you from getting too cold. It all has to do with the special foam we use. Our foam is made with a non-toxic and biodegradable solution that creates very light foam. It's almost all air! Also, the foam is odor free and hypoallergenic, so it's great for everyone! The foam for our Foam Pit Party is mostly air, which helps insulate you when you start getting cold.
The Foam Pit Party is set up in a large sealed inflatable arena. The inflatable arena helps to contain the foam so it can build up higher. Deep foam helps keep your party cooled off and having fun.
Add some cool colored lights to the foam pit to make it even cooler. The lights will reflect off the foam to make some really cool effects. Don't miss this opportunity for some really cool videos!
Our foam pit utilizes a pair of large water drums and a special fan to create and spread the foam. Over time, this foam can fill a large area with our amazing foam!
We deliver our Foam Pit Party to anywhere in the San Francisco Bay Area, and Northern California. So give us a call today to book the foam pit for some awesome fun!
2 hour rental and staffed.
Lights additional cost of $25